The Best Facials and Skin Care in Boulder
Our skin is the largest organ in our bodies… Why don't we take better care it it? Our skin is continually exposed to free radicals – pollution, the sun, and stress – which damages our cells (like collagen and elastin) and speeds up the aging process. A once-a-month anti-aging facial treatment will start you on your way  to having healthy beautiful skin. The main functions of a facial are to thoroughly cleanse pores, exfoliate dead skin cells, stimulate blood flow, provide nourishment, and hydration to the skin. Blemishes MAY result a few days after as toxins may be released. So, if you have an important event you would like to look ravishing for, plan head!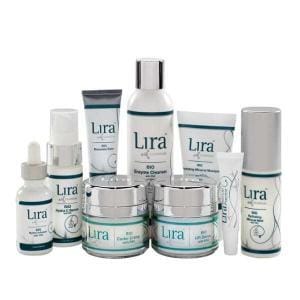 I handle a fantastic skincare line, LIRA . These fantastic products contain higher concentrations of higher quality active ingredients and a molecule size small enough to penetrate the outer layer of skin than over the counter skincare products.  It is important for me to not only have my clients using skincare products loaded with the nutrition and anti-oxidants necessary for healthy beautiful skin, but to provide this at a reasonable cost.
CAUTION – Facial treatments may induce drowsiness and extreme relaxation! To prepare for your pampering, undress to your comfort level and slip under the covers. Guys, don't knock it if you've never tried it! Men LOVE facials.
Check out the CBS TV clip on the HydraFacial 
---
MENU OF FACIALS AND PRICING
*HYDRAFACIAL – $195  (this includes face and neck)
Package of 3 – $145 per treatment
Package of 6 – $130 per treatment

All I can say is WOW! The HydraFacial is a revolutionary facial that is amazing for
ALL
skin types. It does not only improve skin appearance but restores youthful healthy skin with absolutely no downtime. Most clients see a noticeable  improvement after  a single treatment.  However, the antioxidants and extreme hydration delivered with patented vortex from the
HydraFacial
 will provide amazing benefits that will continue to last. The 
HydraFacial
 targets:
Sun damage
Wrinkles
Evens skin tone
Acne
Blackheads
Decreases the appearance of pore size
HydraFacial may be done every 2 weeks, but are recommended 1x per month.  You may also add on the hands.
EUROPEAN FACIAL – $85
Sit back and relax.  This 45 min facial will provide exfoliation and a soothing massage to invigorate the skin. We finish off with a nourishing mask to leave your skin glowing.
*DEEP PORE CLEANSING FACIAL – $95
Targeting breakout, oily or acneic skin, this facial uses high frequency electrical currents to eliminate blemish-causing bacteria, decrease inflammation, and dries up excess oil without causing flakiness or irritation.
---
BODY TREATMENT
*BACK FACIAL – $85
Same as European Facial but on the "flip" side.  A Hydrafacial may also be performed on the back.
Email me today to schedule an appointment!
---
About The Beauty Spot in Boulder, CO
Located in the heart of Boulder, Colorado, The Beauty Spot Salon – owned and operated by Michelle Hale – offers an intimate setting for all your beauty needs.  In addition to facials and Hydrafacials, check out our popular beauty services such as Tattoo Removal and Eyelash Tinting, LED Light Therapy Facials, and waxing hair removal.