Alma TED Hair Restoration in Boulder
The Beauty Spot  is now offering Alma TED hair restoration treatment in Boulder, Colorado – a revolutionary, non-invasive hair treatment for men and women. Hair loss can be a traumatic experience causing people to be conscious of their hair thinning and shedding, and anxious to regain their fuller head of hair. 
The TED treatment is a powerful solution, changing the game of hair loss and drawing attention for its incredible results. TED hair restoration stimulates hair growth deep within the skin by improving blood flow in the scalp and injecting nutrients specifically formulated to boost hair production. At The Beauty Spot in Boulder, we understand that hair loss can be a huge insecurity for both men and women. If you have hair loss concerns, don't hesitate to contact us as soon as possible.
The Beauty Spot is the only salon in Boulder, Colorado offering Alma TED Hair Restoration
How Does Alma TED Work?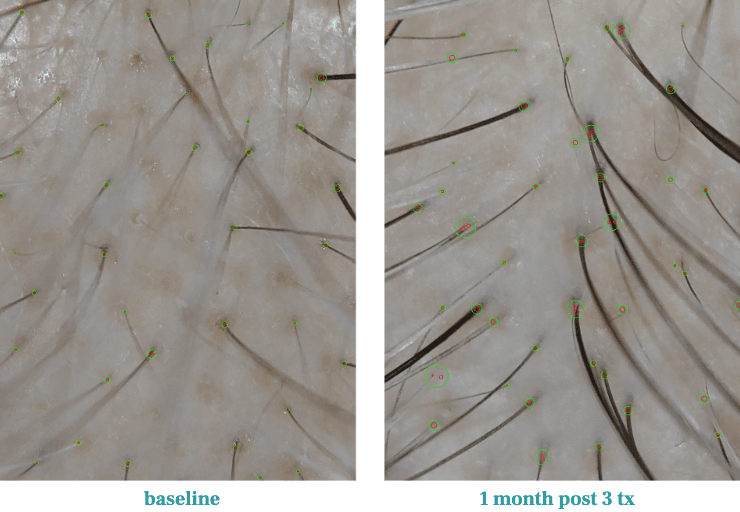 TED uses an ultrasound-based system that uses sound waves and air pressure to enhance the penetration of a powerful topical hair growth formula into the scalp. This combination is designed to increase blood flow, optimize scalp health, and stimulate hair follicles to produce thicker, stronger, healthier hair.
When Alma TED is used with this topical formula, it promotes increased blood flow to the scalp and a healthier, thicker, stronger head of hair. It offers these benefits without the discomfort and shedding commonly associated with in-office hair growth treatments.
How Much Does Alma TED Cost? 
$1100 Single Treatment
$2500 Pack of 3 Treatments
What Can Alma TED Hair Restoration Treat?
One of the many impressive features of the Alma TED hair restoration treatment is that it can treat both male and female pattern baldness. Known as androgenetic alopecia in the medical world, hair loss is a condition more commonly present in, but not exclusive to, men. Male pattern baldness is usually characterized by the forming of an 'M' like shape above the forehead as the hairline recedes.
If you're suffering from hair loss, hair shedding, or thinning hair, the Alma TED hair restoration treatment may be the perfect solution. If you live in the Boulder or Denver, Colorado area and you're interested in a Alma TED hair restoration treatment, contact us today or book an appointment!

Candidates for the Alma TED hair regrowth procedure are:
Men or Women in good health.
People experiencing early signs of hair loss.
Those who have had no recent treatments or taken substances that include steroids.
Benefits of Alma TED Hair Restoration Treatment
Some of the many benefits of the Alma TED procedure include:
Pain-free and Needle-free.

Quick and simple.

Helps support optimal hair regrowth.

Improves hair volume and thickens hair follicles.

No post-treatment shedding.

Also stimulates blood flow of the scalp to improve scalp health.
How Many Alma TED Treatments Will I Need?
Each patient responds differently to the Alma TED hair restoration treatment. Therefore, how many treatments you'll require greatly depends on your quality of hair, amount of hair loss, and the results you want to achieve. On average, most patients require 3 treatment sessions to achieve optimal results.
You can expect to see minor results after one TED treatment, but it is typically recommended to have a series of at least three TED treatments, one month apart, for optimal results.
Does Alma TED regrow a new hair follicle?
Unfortunately, no. The only way to restore hair growth to a severely depleted area is through hair transplantation. However, TED can be used in conjunction with hair transplants to help slow, stop, and reverse the progression of hair loss in non-transplanted areas.
In comparison to the traditional hair transplant, the Alma TED in-office hair restoration treatments rely on acoustic sound waves and air pressure to promote hair growth. No surgery or needles are involved in the process, so there is little to no recovery downtime required after treatment is completed. The Alma TED treatment is a pain-free, hassle-free procedure developed to promote hair growth quickly, safely, and effectively.


See What Our Clients Are Saying
"I've been to see Michelle Hale and have recommended her to my friends. She is very good and explains everything very well. I love my eyebrows! Very pleased with her and her services." ~ Connie K., Lyons, Colorado
"Michelle is great! I got a Hydrafacial & I absolutely loved it. She's super nice & friendly. I am SUPER happy & had such a great experience. If you're looking for a good place to start, or looking into a place to get your skin looking right, The Beauty Spot is the spot to go." ~ Laura C., Boulder, Colorado
"I recently found Michelle through a google search. I had just moved to Boulder and wanted to get my brows shaped, tinted, and to have my eyelashes tinted as well. I was pleased with the job Michelle had done and she seemed very pleasant & professional. It was also relatively reasonable in price – about the same as my old salon in Denver. I will definitely be back as I love what she did for my brows!!" ~ Bella A., Boulder, Colorado

---
About The Beauty Spot in Boulder, CO
Located in the heart of Boulder, Colorado, The Beauty Spot Salon – owned and operated by Michelle Hale – offers an intimate setting for all your skin care & beauty needs. In addition to Alma TED, check out our most popular salon services such as Tattoo Removal, Dermaplaning, and Eyelash Tinting, Thermoclear, Permanent Makeup, microblading and microneedling, and scalp tattoo. People travel to our salon from all over Colorado including Longmont, Louisville, Golden, and Denver – and also Wyoming, Nebraska, and New Mexico!