Treatment for Age Spots & Sun Spots in Boulder
What is ThermoClear?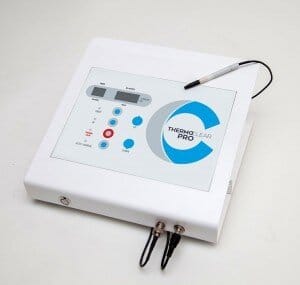 A ThermoClear treatment is done by a machine that essentially tightens skin imperfections by delivering low and high radio frequencies to a treatment area. ThermoClear can treat most skin types to treat imperfections such:sun spots and age spots, small spider capillaries, cherry angiomas, milia, Keratosis, skin tags, sebaceous hyperplasia, fibromas, and cholesterol deposits.
ThermoClear is a non-laser treatment, therefore it ONLY treats the top layer of the skin (epidermis), leaving the lower layers (dermis) unaffected. That's one advantage over machines that use pulsed light treatments (IPL / laser) which usually penetrate the epidermis and the dermis layers of the skin.
Results can be instantaneous but often it may take 1-2 treatments to see positive results.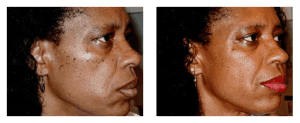 ThermoClear Prices
Each Treatment    $150  (30 minutes)
What Causes Age Spots?
The most common cause of age spots is exposure to the UV radiation of the sun. And Colorado has lots of sun!! Age spots are also known as sunspots, liver spots, senile lentigo, or solar lentigines. They can occur on any area of the body that has had excess sun exposure. They are most common on the face and hands and can also be found on the legs. And they're called age spots for good reason. They make you look your age – That's why so many people want to get rid of them. ThermoClear treatments help you to get rid of age spots and sun spots on your skin. But we can't help you stay out of the sun or actually get younger – we'll leave that up to you!

Check Out What Our Clients Are Saying:
"The Beauty Spot is amazing. I have had facials and eyelash tinting done there and the service is the best.  I also LOVE the intimate, cozy space the owner, Michelle Hale has created there. I drove from Denver to see her because I trust her with my skin.  Her skin care products are the best I have ever used. I highly recommend her! " ~Jaime V., Denver, Colorado
"I highly recommend The Beauty Spot! Michelle offers the best products & services in a fun environment. She is always receptive to your needs and offers advice on what products and procedures to use. I have been working with her for over a year now and am very pleased with the results!" ~ Victoria M., Boulder, Colorado 
"Michelle is the bomb diggity! She's very skilled, knowledgeable, and thorough. I enjoy her swanky, creative and welcoming space, and always feel in good hands when I visit her for my microderms. My skin sparkles when I leave and I have a little more pep in my step after being in her care. I highly recommend a visit (or a few) to The Beauty Spot!" ~ Megan O., Boulder, Colorado
"Not only is the Owner-Artist of the Beauty Spot a creative, professional and polite person, she has been a godsend for my skincare regime." ~ Michelle W., Boulder, Colorado
---
About The Beauty Spot in Boulder, CO
Located in the heart of Boulder, Colorado, The Beauty Spot Salon – owned and operated by Michelle Hale – offers an intimate setting for all your skin care & beauty needs. In Addition to thermoclear, check out our most popular salon services such as Tattoo Removal, waxing and Eyelash Tinting, Permanent Makeup, microblading and microneedling, lip blushing, and scalp tattoo. People travel to our salon from all over Colorado including Longmont, Louisville, Golden, and Denver – and also Wyoming, Nebraska, and New Mexico!