CO2Lift IN BOULDER, COLORADO
We're excited to now offer CO2LIFT – a new type of no-downtime treatment. This medical grade line of products from Lumisque Skincare works by harnessing the therapeutic power of carbon dioxide to tighten, lift, and rejuvenate tissue. This treatment for face, neck, eyes, and body is gentle, pain-free and safe enough for those with sensitive skin and recommended for both men and women of all ages. 
This treatment was created for the sole purpose of rejuvenating aging skin without the use of machines, lasers, aggressive peels, injections, and cosmetic surgery. It is even gentle enough for the most sensitive areas around the eyes, where most signs of aging occur. Even better, this mask works wonders without the pain, downtime or discomfort of competing treatments, and includes dermaplaning. CO2 Lift can be used as an enhancement for post laser treatments or simply on its own to maintain your skin's desired appearance.
Benefits of CO2Lift Facial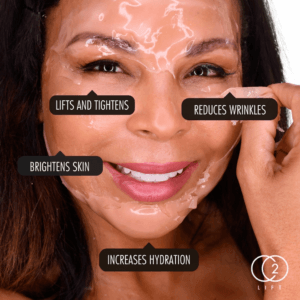 CO2 Lift Facial can safely and effectively correct a wide range of skin imperfections associated with sun damage and aging, including: 
Reduces dark circles and puffiness around the eyes.

Reduces fine lines and wrinkles and sun spots

Increases hydration to recapture your skin's youthful glow

Reduces inflammation and accelerates healing from procedures and chemical peels

Increases skin's hydration 117%

Lifts and tightens skin

Smooths skins texture

Reduces pore size

Brightens skin tone

Anti-inflammatory
How Much Does CO2 Lift Cost? 
$100 in office treatment with LED light therapy added no charge 
$100  Single take-home (home application)
$275  3 pack of take-home treatments
How Does The Co2LIFT Mask Work?
The Co2 Lift mask gel is applied to the skin, and sits for around 45 minutes.
Many anti-aging and skin firming formulas use familiar ingredients or techniques. CO2LIFT is truly different. It utilizes carboxytherapy, a therapeutic technique that has been used in medicine since the early 1930s. Carboxytherapy works by increasing epidermal carbon dioxide penetration. This promotes vasodilation, which is the dilation of tiny blood vessels, thus increasing circulation in the treated tissue. Circulation is critical for oxygen delivery as well as waste elimination within the skin.
CO2LIFT treatments are painless, noninvasive, affordable, and require no downtime.
They can be used individually, or in conjunction with dermatological procedures such as tissue tightening or laser therapy. The CO2Lift face mask improves the quality of your skin, giving you the optimal solution in anti-aging for your face and neck, giving you a more radiant look.
If you live in the Boulder or Denver, Colorado area and you're interested in a CO2Lift, contact us today or book an appointment!

What Are The Results of the CO2 LIFT
With the improvement of blood circulation and the efficient discharge of waste from your skin, you will experience an overall brightness and radiance to your face and neck. In addition, those with freckles and brown spots will also experience improvement in lightness to their skin tone.
The CO2 Lift gel mask dramatically increases hydration after the first application, and with continued monthly use, increases the skins ability to maintain moisture. In addition, a clinical study has shown that CO2Lift, which is a medical grade product, increases cell turnover which helps skin look and feel more youthful!
There are so many products that claim to help slow down or reverse aging. The Carboxytherapy technology in CO2Lift, is a proven way to hydrate the skin without pain and in less than one hour. The skin maintains the hydration for up to three weeks and each application builds on the hydration achieved from previous treatments. 
Who Can Use CO2LIFT?
CO2Lift is GENTLE and SAFE for those with sensitive skin, and recommended for both men and women of all ages. CO2Lift can be used as an enhancement for post laser treatments, great botox alternatives, or simply on its own to maintain your skin's desired appearance.
How Often Should CO2LIFT Be Used?
The recommended use depends on the age of the user. For people over 35, we recommend a series of one mask weekly for three weeks and then once a month for maintenance. For younger skin, a once-a-month treatment is all that is needed.
See What Our Clients Are Saying
"I have had several services …Microneedling and an amazing Hydrafacial done by Michele at the Beauty Spot and my skin has looked and felt amazing. Michele is very prompt replying to any communications, and she is just delightful to talk to work with. I am already looking forward to my next service with her !" ~ Lori J., Longmont, Colorado
"I had a lash lift and tint with Michelle. The same night, I was complimented by another esthetician about how great my lashes look. She did a fantastic job and I look forward to returning for a facial!" ~ Emily G., Boulder, Colorado
"I discovered the Beauty Spot secret over six months ago, and it is my choice for hydrafacials." ~ Liz P., Denver, Colorado
"Go to the Beauty Spot! I had a Hydrafacial, and I was delighted with both the experience and the results.  Michelle is so very good at what she does. Her experience, skill, and intuitive care are worth every penny!  Give her a try and you won't be disappointed" ~ Christine H., Boulder, Colorado
---
About The Beauty Spot in Boulder, CO
Located in the heart of Boulder, Colorado, The Beauty Spot Salon – owned and operated by Michelle Hale – offers an intimate setting for all your skin care & beauty needs. In addition to CO2Lift, check out our most popular salon services such as Tattoo Removal, Dermaplaning, and Eyelash Tinting, Thermoclear, Permanent Makeup, microblading and microneedling, and scalp tattoo. People travel to our salon from all over Colorado including Longmont, Louisville, Golden, and Denver – and also Wyoming, Nebraska, and New Mexico!