DERMAPLANING IN BOULDER, COLORADO
Dermaplaning is a simple and safe procedure that exfoliates the epidermis while ridding the skin of fine vellus hair (commonly referred to as "peach fuzz"). Since dermaplaning carries few to no adverse effects and is quickly and comfortably performed in the salon, it has become very popular.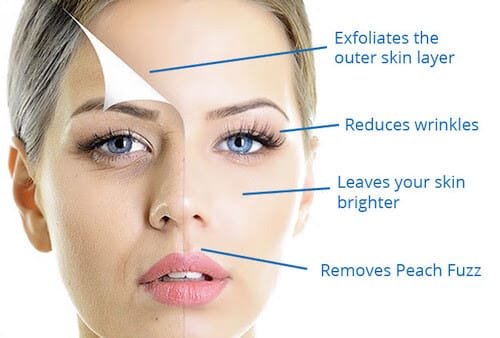 What Is Dermaplaning?
Our trained skin care technician uses a scalpel to shave the skin surface using light, feathering strokes. Because vellus hair on the skin often causes a buildup of dirt and oils, its removal by dermaplaning gives the skin a healthier glow. Removing epidermal skin also allows skin products to penetrate more readily into the deeper layers of skin, increasing their efficacy. Likewise, a Dermaplane treatment is often used to prepare the skin for additional procedures such as facials, Fotofacial RF, spa peels, and deeper chemical peels.
Dermaplaning especially benefits those with rough, dry skin, superficial hyperpigmentation, mild acne scarring, or fine lines and wrinkles. The refined, smooth result will leave you glowing!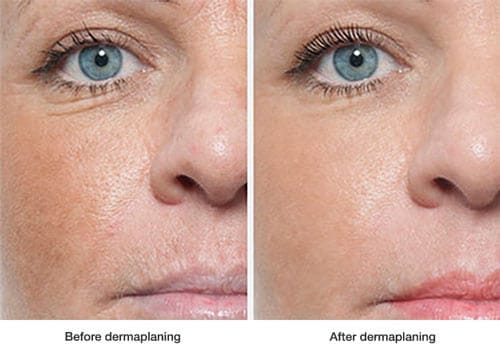 HOW MUCH DOES DERMAPLANING COST? 
$145  Dermaplane Facial Treatment
The Dermaplane Procedure & Benefits
During your treatment we will cleanse your skin and begin the procedure on slightly damp skin. Dermaplane is about a 1-hour treatment. After the procedure we will apply moisturizer and SPF. Dermaplaning is safe for all skin types. However, due to the fact that a blade is used, there's always a risk of a cut.
Dermaplaning can be done before several different procedures to increase the effectiveness of the treatment. This treatment can be used a few weeks post IPL to help shed the unwanted pigmentation and dead skin cells. Some clients receive treatments monthly for exfoliation and to help aid in the removal of peach fuzz.
Check Out What Our Clients Are Saying:
"I was worried I wouldn't find anyone for facials and treatments as good as the person I had in Chicago.  My fears were put to rest when I found Michelle and The Beauty Spot!  Not only is Michelle very skilled and knowledgeable, but she has a true passion for what she does. I've had hydrafacials, microneedling, eyelash treatments with her–all fantastic. I highly recommend Beauty Spot!" ~ LBD, Boulder, Colorado
"I've been a client at the Beauty Spot for about 10 years and have consistently been impressed. I've done permanent makeup, facials, waxing and am hoping to do a hydrafacial as my next treatment! Love the convenience and professionalism of this Boulder salon! " ~ Catherine G., Boulder, Colorado
"Love everything Michelle offers! You will leave feeling like a million bucks. Her facials are my favorite." ~ Heather N., Longmont, Colorado
"Great place to go! Experienced and professional." ~ Vanessa L., Boulder, Colorado
"Michelle is great! She's always done a wonderful job with my eyebrows and is very professional and friendly. Highly recommend it!" ~ Kim Z., Denver, Colorado
---
About The Beauty Spot in Boulder, Colorado
Located in the heart of Boulder, Colorado, The Beauty Spot Salon – owned and operated by Michelle Hale – offers an intimate setting for all your skin care & beauty needs. In addition to Dermaplaning, check out our most popular salon services such as Tattoo Removal, Lip Blush Tattoo, and Eyelash Tinting, Thermoclear, Permanent Makeup, microblading and microneedling, and scalp tattoo. People travel to our salon from all over Colorado including Longmont, Louisville, Golden, and Denver – and also Wyoming, Nebraska, and New Mexico!