#1 Eyebrow Microblading Salon in Boulder, Colorado
Are you ready for something new? Do you want the eyebrows you used to have when you were younger? Has your permanent makeup faded to a less than desired color? Microblading, also known as eyebrow 3D embroidery, is your answer. This new semi-permanent technique for eyebrow tattooing is amazing!  We use very fine blades that can give the appearance of real hair and provide great eyebrow color correction. This technique goes 2 layers into the dermis of the skin and a topical anesthetic will be applied. Because it does not penetrate as deeply as standard permanent makeup tattooing, a touch up will be recommended a bit sooner at 1-2 years.
The initial microblading procedure is done in 2 appointments.  A $35 touchup will be provided in 6-8 weeks and no later than 12 weeks. If later than 12 weeks there a fee will be an increase in fee.
Choosing the right microblading technician is important!  Asking for photos of their performed work as well as the amount of experience is a great way to start.  See our microblading eyebrows photo gallery here. Michelle has been performing permanent eyebrow procedures in Boulder, Colorado for 13 years and has advanced certification in microblading. Taking good care of your eyebrows has become an important part of the beauty routine. Thick, bushy and natural looking eyebrows are fashionable for quite some time now, and the best way to achieve this look is by having a microblading treatment. 
*The Beauty Spot is licensed and regulated by the Boulder County Health Department*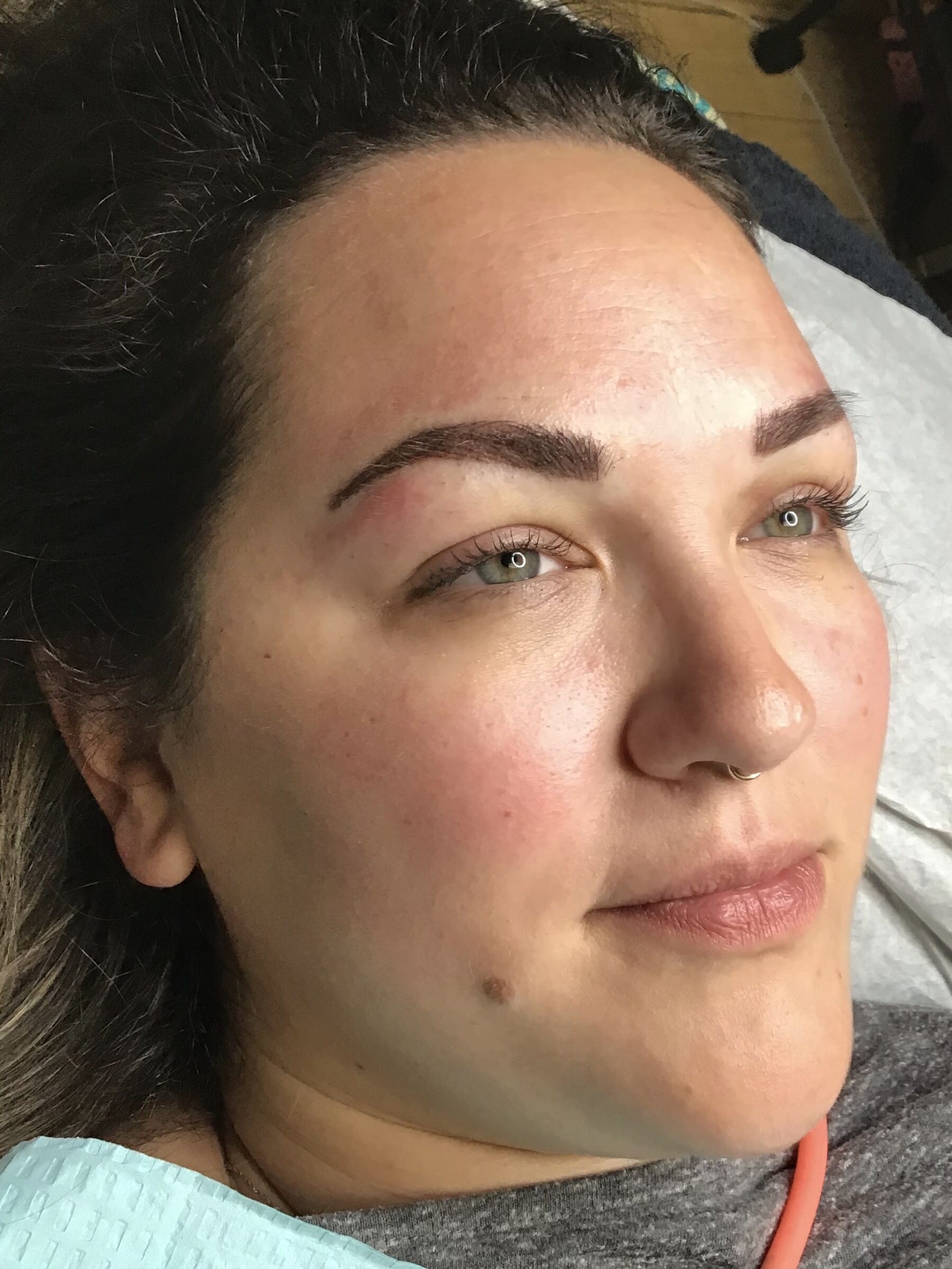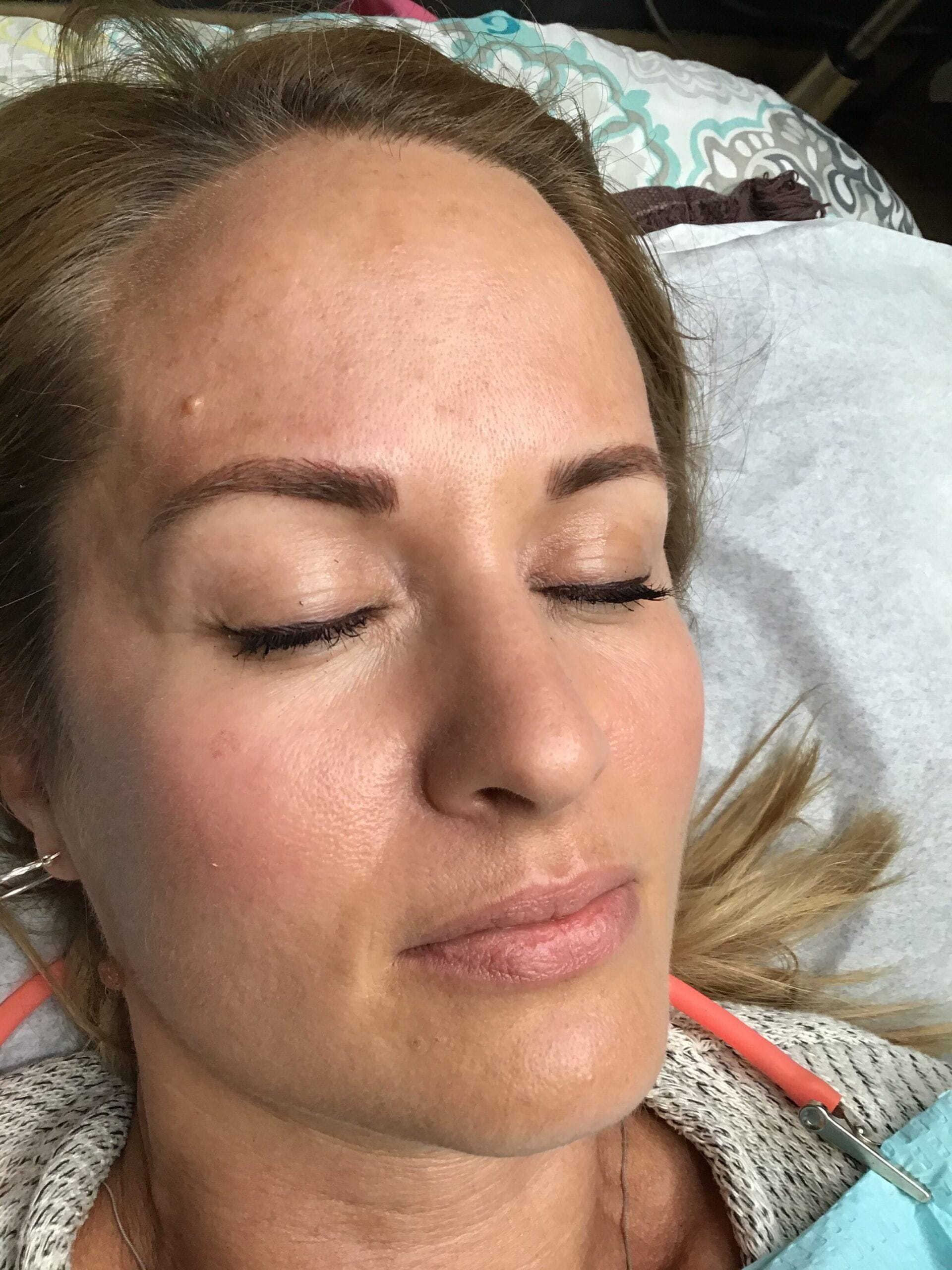 How Much Does Microblading Cost in Boulder?
Eyebrow Microblading ………$550
The price of microblading varies, depending on different factors such as location, competition, the experience and the popularity of the artist etc. The average price of microblading in the United States is about $600 but it can vary from $400 to $1000. Our $550 price is quite reasonable for Boulder, Colorado.
We Also Offer Powder Brows!
Powder brows is a cosmetic semi permanent makeup technique designed to create eyebrows with soft powder effect, very similar to powder makeup. Powder effect is done with a shading technique using a permanent makeup device, which is similar to a tattoo gun.
Ombré brows is a brow style that uses ombré shading, a semi-permanent eyebrow styling technique that uses a small machine to place extremely thin dots of pigment into the skin, creating a soft-shaded brow pencil look. Ombré shading graces you with one to three years of low maintenance for your brows.
Nano Brow is designed for those who are eager to improve the look of their brows, but without having that penciled-on result that many alternatives can achieve. This treatment utilizes a special Nano Needle that draws on each individual hair so it emulates real eyebrow hair. This is what makes it look so natural.
Is Microblading Worth It?
$500 for microblading is a small investment compared to what you get. An investment in your eyebrows will save you time you spend every morning doing your brows to make them look even and natural. After microblading, you will always have that makeup look. Your brows will also look great after a workout or swimming or after skiing. You don't have to worry that they will come off or be smudged all over your face. Your eyebrows will look natural which is very trendy these days and getting a microblading treatment may boost your confidence since many women tend to feel insecure due to poorly shaped eyebrows. And THAT is worth a lot! If you follow the aftercare tips given by your artist, your eyebrows will last longer. But if you skip touch ups and neglect your eyebrows, you are soon back to square one and everything was just a waste of money.



Now Offering CareCredit Financing for Microblading!
What is Microblading?
Microblading is a semi-permanent makeup treatment. It's similar to traditional eyebrow tattooing, although it is not permanent. Microblading is done in the dermis layer of the skin with a small blade that makes scratches. The pigment is inserted into the hair stroke like scratches, making them look like hairs. The result is natural-looking eyebrows that usually last about 2 years. Some touch ups might be required as well, in order to keep the results of the treatment as fresh as possible.
Which is better, Microblading Vs Eyebrow Tattoos? 
Microbladed eyebrows have more advantages than tattooed eyebrows since they look more trendy and natural. Microblading gives your eyebrows the effect of having hairs, while tattooed eyebrows are just a block of color which looks a little bit unnatural and outdated and you don't see that much in Boulder, Colorado these days. Also, it's easier to correct microbladed eyebrows if something goes wrong or you just don't like them. If after some time you want to change the size and shape of your eyebrows, it is easier if your eyebrows are microbladed. Tattooing is much more painful than microblading, since it goes deeper under the skin.
Having your eyebrows tattooed tends to be cheaper and tattooed eyebrows last much longer, while microbladed eyebrows are semi-permanent. Tattooed eyebrows are said to be permanent, but the truth is, the color starts fading after about 3 years. With periodical touch ups, eyebrow tattoos can last up to 10 years, while microbladed eyebrows, with regular touch ups, last up to 2-3 years.
After comparing microblading Vs. eyebrow tattooing, it can be concluded that tattooing might sound cheaper, but microblading is definitely a better investment.
Is Microblading Painful?
Most clients will feel minimal if any pain. Michelle's unique technique for numbing makes the microblading process fairly simple and pain free.
Pain may be worse if you tend to have a low pain tolerance. Your skin may begin to feel irritated or burned, sort of like a sunburn. While some minor discomfort and skin irritation should be expected, you may be able to lessen the tenderness and irritation experienced during microblading by following these steps before your appointment:
Avoid caffeine or alcohol on the day of the procedure.
Avoid tanning or sunbathing for a few days before the procedure.
Don't pluck or wax your eyebrows for a few days before the procedure.
Avoid chemical peels, laser treatments, and other facial treatments for a few weeks before the procedure.
Stop using vitamin A (retinol) for a month beforehand.
It's common for the area to feel bruised or tender for about a day following a microblading procedure. Your skin shouldn't appear bruised, but it may be a little red. As the wounds heal, you may feel as if you have a sunburn for a few days.
It takes about 10 to 14 days to fully heal as the pigment settles. During this time, your skin may be sensitive.
To help prevent complications and to assist with the healing process and avoid infections, follow the aftercare instructions provided by the microblading technician. These may include the following:
Apply coconut oil to your eyebrows twice a day until healed.
Keep the area clean and dry.
Avoid touching, rubbing, picking, or wetting the brow area for a week to 10 days.
Avoid using any harsh skin care products.
Don't apply makeup to the area for a week.
Try to avoid excess sweating for a couple weeks.
Stay out of direct sunlight, including tanning beds.
BOULDER MICROBLADING REVIEWS
"I had a great experience today with Michelle. I've always had puny eyebrows that required a lot of penciling. She guided me through the process of micro blading and shading, careful to listen to my preferences, and used her artistic abilities to accomplish the results I wanted pain free. She's also cool to spend time with and her shop is beautiful and comfortable. Much thanks!" ~ Karen C. Boulder, Colorado
LOVE Michelle. I drive 3.5 hours to see her. Worth every minute. Went first for eyebrow Microblading because her IG pics of brows looked the most natural off all the Microblading service researched. Excellent results. Then had microneedling with LED on face – I could see the difference, creases around the mouth and lips significantly improved. Going back again this week. I book her whenever I need to go to Denver." ~ Pippa M., Colorado
"Michelle was great! She did an excellent job with my brows and is so personable. I am so pleased! 10/10 would recommended!" ~ Ashley, W. Boulder, Colorado
"Greatly pleased with the outcome of a horrible microblading eyebrows I had done at a different business. I had a wonderful pleasing result on my first visit to have them removed. I highly recommend The Beauty Spot!!" ~ Charlene P. Boulder, Colorado
"I recently had my eyebrows micro bladed by Michelle and I'm very happy with the result. As a redhead with blonde eyebrows and eyelashes, I was very nervous but interested in microblading. Michelle answered my questions both in person and over email very promptly. Michelle definitely knows what she is doing – I'd be happy to recommend her microblading process to anyone." ~ Jill S. Boulder, Colorado
"LOVE my new brows! After reading the reviews, I decided to book an appt at The Beauty Spot. Michelle did not disappoint! I only wish I found this place sooner. She is so talented and very professional! I was nervous, but Michelle made this a comfortable and pleasant experience. I would highly recommend The Beauty Spot to anyone and will be seeing Michelle again for future services." ~ Erin, S. Boulder, Colorado
---
About The Beauty Spot in Boulder, Colorado
Located in the heart of Boulder, Colorado, The Beauty Spot Salon – owned and operated by Michelle Hale – offers an intimate setting for all your beauty needs.  In addition to eyebrow microblading, powder brows, ombre brows and nano brows, check out our most popular salon services such as Tattoo Removal, waxing and Eyelash Tinting, Thermoclear, Permanent Makeup, and microneedling, lip blushing, and scalp tattoo. People travel to our salon from all over Colorado including Longmont, Louisville, Golden, and Denver – and also Wyoming, Nebraska, and New Mexico!