ZAFFIRO IN BOULDER, COLORADO
We're excited to now offer Zaffiro – a new type of skin tightening treatment. Zaffiro is the only device that combines synergistic hydroexfoliation and infrared thermo-lifting to brighten and tighten, face and body naturally, no needles & no downtime! Zaffiro reduces the appearance of fine lines and wrinkles. Zaffiro Improves elasticity, resilience, and texture of your skin!

THE BEAUTY SPOT ~ THE EXCLUSIVE PROVIDER OF ZAFFIRO IN COLORADO!
What is Zaffiro?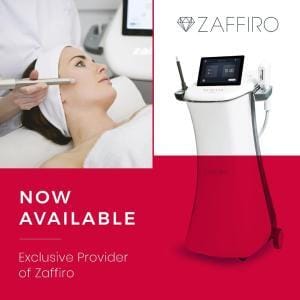 Zaffiro is a non-invasive, non-surgical treatment for tightening skin and rejuvenating skin that combines the powers of hydro-exfoliation and thermo-lift technology. This treatment firms the skin, enhances its texture and appearance, and stimulates collagen production 40% in just 21 days after your first treatment. Zaffiro combines two technologies to smooth and rejuvenate the skin: (1) infrared energy and (2) hydro exfoliation.
The infrared energy is often referred to as thermo-lift technology. It reaches deeper layers of the skin and subcutaneous tissues. Zaffiro increases collagen within the skin to produce a tightening effect. Because the infrared energy passes into the skin without damaging the surface, there is no downtime. There is also less discomfort than with some other technologies, like ultrasound and radiofrequency.
Hydro exfoliation is like a precise micropower wash for the face. A gentle but powerful jet of water removes debris and hydrates the skin, producing a more smooth, plump, and youthful texture.
What Kind of Results Can Be Expected From Zaffiro?
Individual results will vary, but most patients see and feel improved lifting, tightening and firmness of the skin with improved texture and tone after each treatment. You may experience: Reduced fine wrinkles and lines, improved crepiness of the neck, arms, and stomach, increased skin's radiance & a brighter complexion!
Zaffiro is the perfect solution for people who want to improve the appearance of their skin without having to undergo invasive procedures. It helps achieve a fresh and more youthful look and can be applied to all face and body areas. Zaffiro can be adapted to benefit patients with different skin types and sensitivities, and it offers numerous skin benefits.
See our Zaffiro before & after photo gallery
How Much Does Zaffiro Cost?
$550 for Single Treatment (We recommend 3 treatments, 1 month apart)
$1200 for 3 pack
$2100 for 6 pack (no expiration on packages)
What Happens During A Zaffiro Treatment?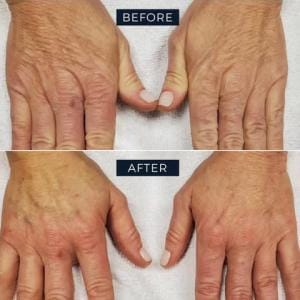 Zaffiro consists of two separate phases. The first phase is hydro-exfoliation, and it includes using cooled, compressed, and sterile water applied in a massage fashion. This process nourishes the epidermis, stimulates toxin release, removes devitalized cells and collagen, and improves the skin's texture.
The second phase (thermo-lift) involves using a infrared laser to penetrate through the epidermis and stimulate and tighten the deep layers beneath the skin. The heat causes the existing collagen fibers to reinvigorate and stimulates the production of fresh collagen. That way, the production of Type I collagen is increased and refined.
Treatment is painless, and patients do not experience any discomfort. It is a highly relaxing procedure for many. Thanks to combining a cooling element into the laser delivery handpiece, the normal skin temperature is maintained, without the hot feeling produced by many energy-based therapies.
Zaffiro has zero downtime, and patients can return to normal activities immediately after the treatment, as it does not leave any scarring or bruising. In very rare cases, skin irritation or redness may occur, but that will disappear within a few hours.
Most patients will see immediate and long-time effects from their Zaffiro treatment. Results will continue to improve over the following months, as new collagen is formed.
If you live in the Boulder or Denver, Colorado area and you're interested in Zaffiro, contact us today or book an appointment!
How Many Zaffiro Treatments Will You Need?
The recommended number of treatments will vary depending on your specific concerns, expectations and severity of skin concern. Typically, we recommend a series of up to 4 treatments for the face or 6 treatments for the body with a maintenance treatment plan. After the initial rejuvenation, patients can maintain the results with an ongoing treatment regimen and undergo repeat treatments semi-annually or annually, depending on the desired results.
Many patients see and feel some treatment results immediately, such as cleansed, hydrated, nourished, and tightened skin. The long-term result includes building new collagen fibers visible just a few weeks after the treatment. During this time, the natural collagen production in the body will increase, and the skin quality will be restored.
See What Our Clients Are Saying
"I went to see Michelle to try out her new Zaffiro treatment. WOW is all I can say! The treatment was easy and felt amazing. When I was done my skin looked spectacular. My face was glowing, toned, and my lines less noticeable. My neck is gorgeous, noticeably less wrinkles and sag. I look younger and don't feel as self conscious. Thank you for making me feel beautiful again." ~ Julie P.,  Boulder, Colorado
"My running buddy asked, 'why is your skin glowing?' Another friend asked, 'Have you lost weight? Your face looks thinner.' I didn't tell them that I had a Zaffiro treatment from Michelle at the Beauty Spot. Zaffiro has tightened and lifted the skin on my face and neck with no down time. My skin is brighter and more even. It's been very effective smoothing the wrinkles on my cheeks and neck. I'm thankful Michelle has brought this state of the art process to Boulder. Her attention to detail and focus on her client's comfort make the Beauty Spot the place to go for refreshing and rejuvenating your face." ~ K. R., Boulder, Colorado
---
About The Beauty Spot in Boulder, CO
Located in the heart of Boulder, Colorado, The Beauty Spot Salon – owned and operated by Michelle Hale – offers an intimate setting for all your skin care & beauty needs. In addition to CO2Lift, check out our most popular salon services such as Tattoo Removal, Dermaplaning, and Eyelash Tinting, Thermoclear, Permanent Makeup, microblading and microneedling, and scalp tattoo. People travel to our salon from all over Colorado including Longmont, Louisville, Golden, and Denver – and also Wyoming, Nebraska, and New Mexico!