Plasma Lift in Boulder, Colorado
What is Plasma Lift? (aka Fibroblasty)                        
As we grow older our skin changes. Hard fact! We begin to lose collagen and the elasticity that tightens our skin giving us that more youthful appearance. If you are ready for facial rejuvenation but want to stay away from surgery with long down times or injections of who knows what – plasma lift is the procedure for you! Plasma lift also called a Fibroblast treatment. A plasma lift is is a non-surgical skin rejuvenation treatment that tightens the skin by activating the fibroblasts in your own body! Fibroblasts are responsible for the production of collagen, elastin and other connective tissue fibers in the body. When we speak of plasma many people ask, is this a vampire facial? or is there blood involved?  Nope! Plasma is an ionized gas which conducts electricity. The plasma causes an instant contraction and tightening of the skin fibers without ever touching the skin. The result is superficial trauma setting the tissue into a regenerative state for healing.
Fibroblasty can be used for the following: skin tightening of all facial areas, diminishing stretch marks and facial scars, resurfacing acne scar damage, tightening loose skin on the neck and cheeks, facelift, neck lift, and reducing fine lines and wrinkles. Fibroblasty can be used to decrease age spots or sun spots (also known as sunspots, liver spots, senile lentigo, or solar lentigines) and it can also rejuvenate the skin in areas like crows feet, hooded or eye lifts, smile lines, forehead 11's and marionette lines and more. Saggy neck and jowls can be treated as well skin tightening on the chest, or stomach.
See our Fibroblasty Photo Gallery
If you are considering a Plasma Lift you may also be interested in learning about our microneedling treatments.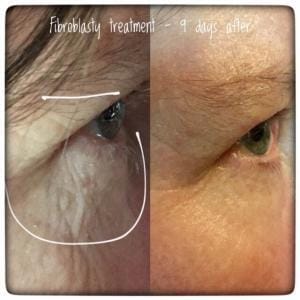 Email me today to schedule an appointment!
---
What is a Fibroblast Nose Lift?
A Fibroblast Nose Lift is also known as Nose Sculpting. Nose contour or nose bulbous reduction. Nose sculpting targets extra fatty tissue by reducing the volume of excess skin on the nose. A specific technique for sculpting the nose is used to achieve noticeable results from the very first treatment!. Lift the tip reduce the bulbous & sculpt your nose today without the expenses invasiveness & downtime of surgery.
What Should You Expect During The Plasma Lift Treatment?
Plasma lift is a non-surgical procedure. A topical numbing cream is applied on the area before the treatment begins. You can notice that the treated skin becomes red and swollen slightly immediately after the plasma lift treatment. Upper eyelids usually will have the most swelling possibly lasting about 2-3 days. The carbon crusts will be formed on the skin directly on the area of treatment. These crusts will last approximately 5-8 days. Results will continue for the next 2 months after treatment.
*****Hyper-pigmentation**** may occur if client does not follow home care instructions given at the day of treatment.  Direct sun exposure is NOT recommended during the healing time.

Email me today to schedule an appointment!



Now Offering CareCredit Financing for Plasma Lifts!
How Long do the Effects of Plasma Lift Last?
Although most clients start experiencing the results of plasma lift immediately, the healing/tightening continues for about 2 months after initial treatment. Following protocol is a MUST! The best results of the plasma lift procedure can be seen within 8 weeks following the treatment. However, like all cosmetic procedures, the effects of plasma lift are not completely permanent and plasma lift does not stop any further skin aging. The desired results of plasma lift could last depending upon the area that is being treated. For more extreme skin conditions, another plasma lift treatment might be required after 2-3 months to achieve best results. This can depend on the clients age, the skin condition, the skin's laxity, the desired degree of skin correction and also the patient's response to the plasma lift treatment. In addition, alcohol consumption, smoking, and prolonged exposure to the sun are lifestyle factors that can actually prevent the result from plasma lift from lasting longer.
How Much Does Plasma Lift Cost?
Plasma Lift is a procedure that is more affordable than most cosmetic surgeries. However, the pricing of plasma lift treatment is done per area to be treated and so the price can range from $300 to $2500. The entire face should never be done at 1 appt.  The cost is typically much less when compared to costs of a traditional cosmetic surgery. We offer CareCredit financing for Plasma Lift procedures.
Plasma Lift / Fibroblasty Prices
*EYE TREATMENTS
Upper eyelid lift    $500
Under eyes    $500
*FACE TREATMENTS
Forehead Lines   $500
Between Eyebrows (11″s)  $300
Nasal labial / Smile lines  $500
Upper Lip   $500
Around mouth    $700
Jaw line / Jowls   $600
Nose Lift   $500
*BODY TREATMENTS
Chest $1500
Neck $1300
Stomach $800 – $2500
Arms    $1500
What Is The After-Care of Plasma Lift Procedure?
You may feel a mild burning or hot sensation immediately after the plasma lift treatment and may last 2-3 days – especially in larger treatments. If this burning sensation does not fade after 2-3 days, you need to take anti-inflammatory medications, such as Ibuprofen.
Swelling could be noticed following the plasma lift treatment, especially around the eyes and this swelling can last for a few days. A tiny scabs will form on all treated areas. This is absolutely normal and should in NO case be removed or interfered with.so may result in scarring, pitting or hyper-pigamentation! The area treated must remain dry for the 3 days following treatment. While the crusts are present, you must avoid direct sun exposure, heavy sweating, sauna and swimming as well as any moisturizers with Retin A, glycolics, suncreen or Vitamin C. A gentle face wash may be used while crusting is present. We want to allow the skin breathe and heal naturally.
---
About The Beauty Spot in Boulder, CO
Located in the heart of Boulder, Colorado, The Beauty Spot Salon – owned and operated by Michelle Hale – offers an intimate setting for all your beauty needs.  In Addition to Plasma Lifts, check out our most popular salon services such as Tattoo Removal, waxing and Eyelash Tinting, Permanent Makeup, microblading and microneedling. We have folks coming from Longmont, Louisville, Golden, for skin care treatments – sometimes even from Denver!